Glowing skin with chemical peeling treatment in Dubai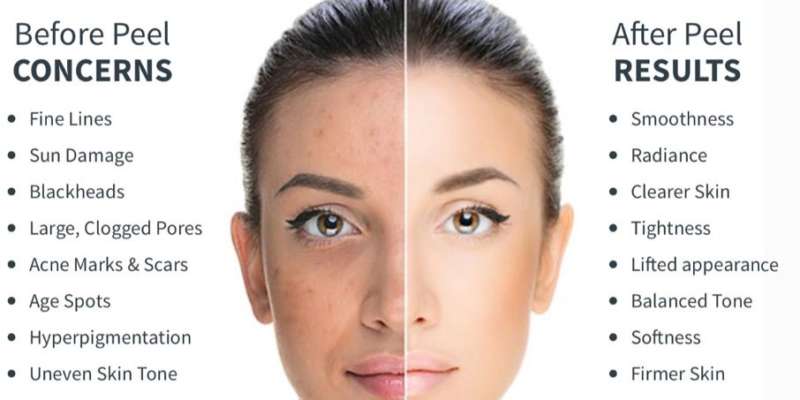 A chemical peel dubai is a type of procedure during which an element is applied to the skin resulting in quicker skin cell turnover. The purpose of chemical peeling is to revitalize skin cells or treat a specific issue such as scars, razor bumps, acne, blemishes, wrinkles, melasma, sun damage or even aging lines. Many individuals seek chemical peeling to not only treat skin problems but as well as to restore and maintain a flawless glowing complexion. With great successive treatments due to cost effectiveness and safety, many individuals have trusted Montreal International Clinic to perform the popular dermatology procedure.
There are many types of chemical peels – namely superficial, medium, and deep treatments which propose diverse benefits and risks. Individuals who prefer chemical peeling treatment can enjoy the benefits, as long as they are treated under a certified professional, who is trained to select the right type of chemical peel according to type of skin. At Montreal International Clinic, we are proud to offer an assortment of the higher quality, medical grade chemical peeling that not only gives you results, but also gives zero downtime.
A chemical peeling treatment can help,
Reduce wrinkles caused by aging
Improve the look and feel of your skin
Reduce fine lines under the eyes and around the mouth
Reduce age spots, freckles, and dark patches on your skin
Improve the appearance of mild scars on your skin
Treat Sun damaged skin
Treat certain types of acne or acne scarring
Once an individual undergoes a chemical peeling treatment, they will notice that their skin is more sensitive to the harsh rays of the sun for a short time, and we always advice our patients to wear sunscreen every day (regardless of chemical peeling treatment) and limit exposure to the direct rays of the sun.
Is there a specific requirement for chemical peeling treatment?
It has been identified that individuals who are fair-skinned and light-haired are good candidates for chemical peeling treatment. Persons who have darker skin could also have agreeable results, which depends on the type of area that is being treated for chemical peeling. Experts believe that removal of skin bulges, sags and severe wrinkles are not responsive to chemical peeling treatment and, therefore, we recommend you to consult our dermatologists at Montreal International Clinic in Dubai, who will assist in providing you details on the appropriate treatment.
What is the procedure and after treatment like?
The professionals at the Montreal International Clinic will first clean the area that is treated thoroughly, and apply one or more chemical solutions to small areas of the skin which creates a controlled wound, letting new skin take its place.
During a chemical peel, most patients feel a burning sensation that lasts for a short time, followed by a light stinging sensation. Putting cool compresses on the skin may ease the stinging and those with sensitive skin may need pain medication during or after a deeper peel.
Depending on the type of chemical peel treatment, the patient may have a reaction similar to sunburn, which occurs following the procedure.
Peeling usually involves redness and is followed by scaling that lasts for about three to seven days. Mild peels may be repeated at one to four-week intervals until the patient acquires the look they desire.
Contact now our skin experts at Montreal International Clinic to find out if a chemical peel is the right treatment for your skin, and learn more about what to expect before and after the procedure.