Herniated Disc - Neuro Spinal Treatments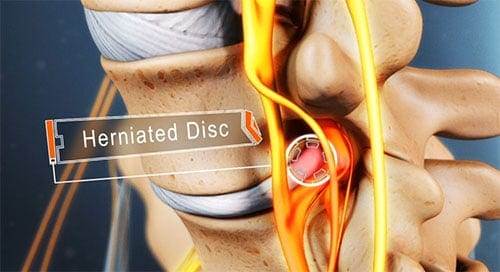 Disc pain can be an awful experience. It can affect your daily routine in unexpected ways causing you to be sedentary. If proper disc treatment is not applied, this can lead to weight gain and thus more pressure on the spine and increased pain. So what is disc pain or a slipped disc? Did you know there are discs in your spine, lodged between each pair of bones that make up the spinal column? These discs providing a cushion like protection for your bones to stop them from heaven friction with each other and are there to absorb any kind of sudden shock through your spine. Shocks can be as small as jogging and exercise or as big as a trauma or accident. Each disc has a soft interior and a hard outer layer. If the outer layer gets damaged, the soft interior can move out of place, placing pressure on the surrounding nerves causing severe pain. This is what is commonly known as a herniated disc. If left untreated, your spinal cord can become damaged due to this pressure on the nerves or friction within the spine. There is good news however; patients with this medical condition can make a full recovery with advanced techniques such as stem cell injections and PRP injections to repair the disc. If this solution is not enough due to extreme damage and the disc is not repairable, disc replacement through microscopic and endoscopic disc removal is a surgical option with or without the fusion of the disc space
Disc damage can also be caused by a sudden strain or traumatic injury. It can occur due to age related degeneration.
Can a herniated disc be prevented?
The vertebrae are supported by abdominal muscles so exercising to strengthen your abdomen will certainly help decrease the chances of having a herniated disc. Experiencing stress or being overweight, lifting heavy items and poor posture can be damaging to your disc and spinal column.
If you are suffering from a herniated disc, you need to see a specialist neurospinal surgeon at Montreal International Clinic in Dubai. Our highly skilled and experienced doctors will provide comprehensive treatment and care for spinal conditions such as a herniated or slipped disc. Our physicians have extensive experience in diagnosing and treating herniated discs and will recommend a thorough medical analysis, including digital scans and physical exams followed by a professional treatment. For advanced treatment, our physicians may suggest minimally invasive surgery.
The treatments performed at Montreal Clinic are assisted with cutting edge imaging technology and advanced medical techniques. You are in perfectly safe hands, and we guarantee 100% success in all our treatments and surgeries.
How can stem cells or PRP treatment help?
By using cells from your own body, stem cell and PRP treatments distinguish themselves from other treatments. These treatments are non invasive and use platelets from your own blood samples to heal you. The treatment begins with a consultation with our physicians. Along with a physical exam imaging diagnostics may be recommended. Once the case is diagnosed, and the stem cell or PRP treatment is deemed to be suitable we begin by collecting a small blood sample. The platelets in the blood sample are then activated and centrifuged by our technicians. Once ready, the stem cells can be injected into the target area requiring the healing. The healing begins almost instantaneously and you can feel the pain relief begin over the area. Over the coming days and weeks it will continue to get better. Your physician may advise a course of 2-6 stem cell treatments depending on factors such as the area of treatment and the extent of damage
Our Neuro Spinal Specialist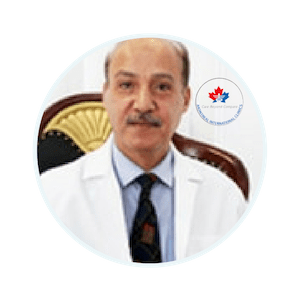 Dr. Ashraf Shatla
Dr. Ashraf Shatla had practiced as a Neurosurgeon since his graduation from Edinburgh University in 1990. He practiced his specialty as Consultant Brain & NeuroSpinal Surgeon in the UK, Canada, USA and the Middle East.
Dr.Shatla's work has extended to a new era of functional neurosurgery using recent neuro-navigation and stereotactic surgery, allowing the most accurate and precise techniques for brain and spine surgery and for recent minimally invasive spinal procedures for spinal pain, endoscopic discectomy for back and neck pain surgery.
Dr Shatla spread his expertise in the Neuro Spinal field in the Middle East Healthcare industry and recorded a genuine success in treating patients, adults and children with amazing results.
Services
Back & Neck Pain Treatment
Discogel Injection
Nerve Root Spinal Block
Nerve Root Spinal Block
Spinal Fracture Fixation
Brain & Spinal Tumor Surgery
Radio Frequency Spinal Pain Treatment