Specialized Aesthetic Dentists in Dubai
Did you know that your smile creates an immediate, subconscious, visual impact on people you meet? A brighter smile gives the impression of youth, vitality, radiant health, happiness, and warmth. A bright smile is also perceived as a healthy smile that's why Montreal International Clinic offers a number of dental treatments that work to improve your oral health.
Tooth Colored Fillings;
In the past, teeth were filled with a mixture—or amalgam—of different metals. Today,  that is changing as more natural-looking and metal-free fillings are becoming the preferred approach.
Dentists are using more tooth-like materials (composite resins and porcelains) that are both safe and predictable. The most important feature, for many people, is that they look and react more like natural teeth.
The inner part of a tooth is the dentin, which is more porous and similar to bone. It consists of microscopic tubes of collagen with calcium crystal deposits. Dentin is a live and is very sensitive. The feeling in the dentin is transmitted through the pulp, or nerve tissues, in the very center of the tooth. To mimic the natural dentin in the teeth, today's dental composite resins are common in non-amalgam fillings. These composites are made of a plastic resin and silica fille
Direct, Semi-Direct or Indirect Restorations:
Direct, semi-direct or indirect, are three different methods to repair teeth with restorative materials or fillings. Each method has its own benefits and drawbacks and is best suited for a specific set of circumstances.
Direct Fillings:
Direct fillings require small amounts of restorative materials being placed into cavities resulting from decay. The resin is applied in layers which are instantly set with special lights, meaning the entire filling can be built up and repaired by the time you leave the office.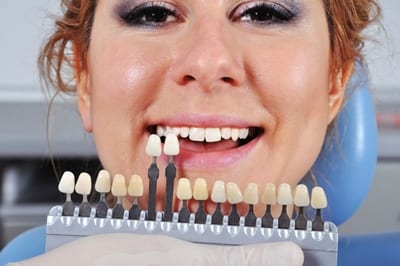 Semi-Direct Fillings
Semi-Direct fillings are for repairing larger areas. These are similar to direct fillings, in which layers of resin are used, but this restoration can be removed and is set outside of the mouth. Once the filling has set, it is then bonded to the tooth. Semi-Direct fillings can also use CAD/CAM (Computer Assisted Design/Computer Assisted Milling) to create the inlays. This technology allows your dental professional to make a harder, more durable porcelain restoration without having to send out a mold to a remote fabrication facility.
Indirect Fillings
Indirect fillings are used when a very large or complex restoration is required. Basically, when there is not enough healthy tooth left to fill, a restoration is created to replace most of the visible tooth, or to crown it. These are more involved procedures and cannot be made directly to the tooth and cannot be placed the same day.
Porcelain Crowns;
Dental porcelain can be sculpted to closely replicate the look of natural tooth enamel, while providing desirable strength and resilience. Porcelain crowns are an excellent choice when recreating the form and function of a damaged tooth, because a crown basically replaces the entire external portion of the tooth down to the gum level. Crowns are not limited to simply replacing the original tooth, but can be designed to create an even better esthetic appearance.
Crown Consultation
Crowns can be selected for necessity or cosmetic reasons. No matter what the case, the first step is to schedule an appointment with us. We will examine your teeth and in some cases will immediately see if a crown is the best option. In other situations where the problems aren't so obvious, you may need to express your concerns and discuss your future smile goals so both you and your dentist have all the facts.
The Hows and Whys of Porcelain Crowns
Porcelain crowns replace the exterior portion of a tooth to re-establish its original function and to create a natural appearance. We do not use metal as a base in order to avoid dark margins at the end of the crown and allow the light to shine through.
Crowns are the treatment of choice in situations where tooth decay has destroyed most of the original tooth, when a traumatic event has caused damage, or in cases of severe enamel erosion. They are also an option for people who grind and clench their teeth so much that the original structure of their teeth has been compromised.
The great benefit to porcelain crowns is they can not only replicate the original tooth in function, but can be designed to look like the original,  or even better.
Porcelain Veneers;
Porcelain veneers are thin pieces of porcelain used to recreate the natural look of teeth, while also providing strength and resilience comparable to natural tooth enamel. It is often the material of choice for those looking to make slight position alterations, or to change tooth shape, size, and/or color.
Veneer Consultation
Informing you is the first step in determining if veneers are the right option for you, or if there are alternate solutions available. Communicating with us about what you want corrected, is critical to a successful result. Spend time clearly identifying what cosmetic improvements you want to accomplish.
You'll often hear people say that celebrities have veneers and this may seem like the best way to replicate picture-perfect teeth, but each mouth is different and veneers need to be carefully researched.
We will begin with a smile analysis to determine what steps are necessary to achieve the smile you desire. In addition, a diagnostic mock-up will be created to allow you to "try on" veneers and other procedures to see if the final result is actually what you're looking for.
Deciding that porcelain veneers will create the look you want is only one step in the process. There is much more to learn before proceeding further.
The Hows and Whys of Porcelain Veneers
Porcelain laminate veneers consist of a compilation of several thin ceramic layers which replace original tooth enamel, and an adhesive layer. To apply a veneer, a very small amount of the original tooth enamel must be removed, usually less than a millimeter. This is essential as it creates room for the porcelain veneer to fit within the mouth and most accurately restore natural tooth function while creating an even better appearance than the original tooth.
Porcelain veneers are a very successful option in many situations where the original tooth has developed poor color, shape, and contours. It is also a good choice for fractured teeth, gaps between teeth, and in some situations where the tooth position is compromised and there are minor bite-related problems. For some people, superficial stains do not respond well to tooth whitening or bleaching. In these situations, a porcelain veneer may be the best option.
Professional Teeth Whitening
Smiles Are Valuable
Statistics reveal that we place a high value on our smiles. According to an American Academy of Cosmetic Dentistry survey:
Virtually all adults (99.7%) believe a smile is an important social asset. 96% of adults believe an attractive smile makes a person more appealing to members of the opposite sex.
Three-quarters (74%) of adults feel an unattractive smile can hurt a person's chance for career success.
And when respondents were asked, "What would you like to improve most about your smile?" The most common response was 'Whiter and Brighter Teeth!'. If you are not happy with your smile, teeth whitening may be a good first step.
Causes of Tooth Discoloration
Deciduous (baby) teeth are typically whiter than the adult teeth that appear later. As we age, our adult teeth often become darker, yellow, or stained. This is partly why white teeth make people appear more youthful.
Just as there are a number of ways to lighten or brighten teeth, there are also several different ways for teeth to become discolored. The main causes of darkened teeth are genetics, antibiotics, and certain foods, plus teeth tend to darken as we age. Internal tooth discoloration is caused by changes in the enamel of the tooth and the dentin. The main causes of internal tooth discoloration are exposure to high levels of fluoride, tetracycline, use of antibiotics as a child, developmental disorders, tooth decay, restorations, root canal issues and trauma.
External tooth discoloration is caused by factors outside the body, mainly food and tobacco. The main causes of external tooth discoloration are smoking, foods with tannins, coffee, tea, carrots, oranges, and other pigmented food.
Types of Teeth Whitening
There are various ways to whiten your teeth, but the two most common are in-office treatment and the do-it-yourself approach, with over the counter products.
In-Office Teeth Whitening
Professional tooth whitening in a dental office is the preferred whitening method because even though stronger agents are applied, the rest of the mouth, including the gums, is protected from these materials. The best whitening systems feature a buffer in the gel that protects the tooth enamel from damage, this is extremely effective,  and can transform teeth in a single office visit. Your teeth can literally brighten up to 10 shades in about an hour.
In-office whitening affects only the front eight teeth and is a great jump start for take-home whitening, which is always part of an effective whitening program.
In our office we can handle any issues that may arise from whitening treatments, such as tooth sensitivity. Today, most tooth sensitivity cases are easily managed.
Tooth whitening can last for one or more years, depending on how well you take care of your teeth, and if you're following up regularly with a home whitening product for regular maintenance.
Minimal Prep or "No-Prep" Veneers Lumineers
Just as with porcelain veneers, "no-prep" or minimal preparation veneers, as they are called because they don't typically require the dentist to remove as much tooth material, before they are bonded to the front surface of your teeth. Often, the placement of no-prep veneers can be done more quickly and with less discomfort than traditional veneers.
We will let you know if you are a good candidate for minimal preparation or "no-prep" veneers and if this option makes a sensible treatment plan.
The Benefits of Veneers
Since veneers are individually sculpted for each patient, it is nearly impossible to tell the difference between a veneer and a natural tooth. Unlike natural teeth, custom-made veneers resist coffee and tea stains, and cigarette smoke because they are made of high-tech materials.
With veneers, as opposed to crowns, your  natural teeth remain largely intact with only a minimal amount being altered to fit the veneer.
For teeth that resist whitening, veneers can make even the darkest teeth appear bright white. Veneers can also be recommended to fix minor twists, overlaps, and small gaps, instantly.
Maintenance of a Porcelain Veneer
Maintaining porcelain veneers are  actually quite simple.  Treat them as you would treat your original teeth, with routine brushing and flossing. Using non-abrasive fluoride toothpaste will typically be suggested.