Gynecomastia Treatments or Male Breast Reduction & Surgery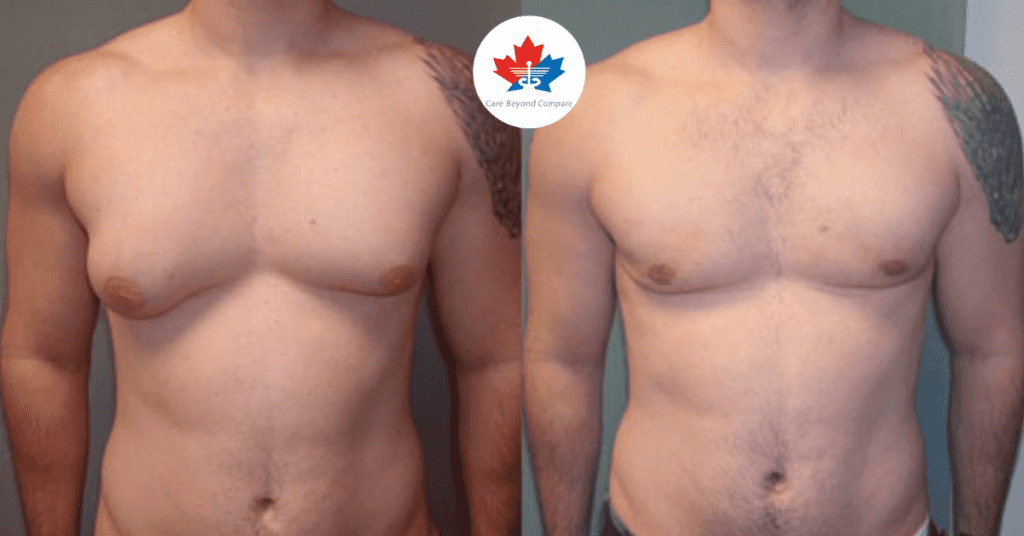 Don't Allow Gynecomastia To Rob You Of Your Confidence, Go For Gynecomastia Treatments
Gynecomastia or male breast reduction is a procedure with which men can get that shapely, firm muscular look of chest muscle.
Through genetic factors and with age and obesity as additional factors many men develop larger fatty female-like breasts. These breasts become very difficult to lose even with exercise and a healthy diet as the fat in these areas is more resistant than others. Gynecomastia is a treatment our plastic surgeon uses that may include liposuction or surgically removing this excess fat and stub tissue to allow the chest to be firm and muscular looking.
When a female has enlarged breasts, it is appreciated, but the same cannot be told of a male. Having enlarged breasts as a male is somewhat embarrassing and most times robs one of confidence. This condition is not a terminal disease and shouldn't make anyone cry foul. Luckily, with a Gynecomastia or Breast Reduction Surgery in Dubai, your Gynecomastia can be a thing of the past.
Gynecomastia Causes:
Many men develop large breasts like owing to some factors. Some are genetic while others are from lifestyle-related causes. These include:
 Age
Malnutrition, chronic kidney failure
Obesity
Use of medications
Large breast caused by Gynecomastia became very hard to get rid of even with eating a healthy diet and exercises. The fat in this area simply become more resistant than others. Breast reduction surgery for men is the most effective treatment that our plastic surgeons use to treat Enlarged male breasts or Gynecomastia. Using this cosmetic surgery, our plastic surgeon removes the excess fat including the glandular tissues to restore a flatter, more muscular and firmer contour to the chest. Gynecomastia is not restricted to any age, teenagers and adults can have the condition, and breast reduction surgery can be done on both adults and teenagers.
Before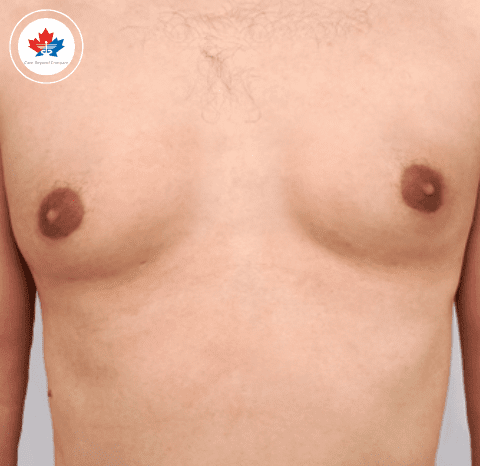 After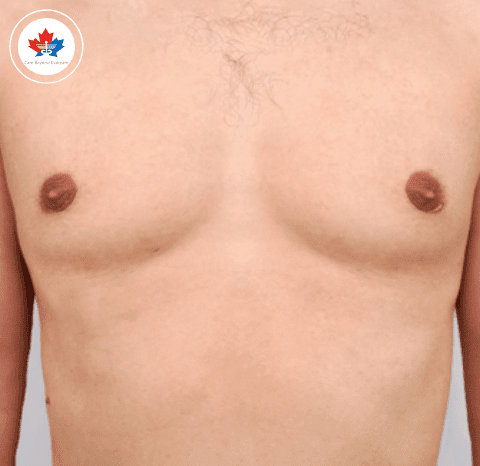 Gynecomastia Surgery Process:
The procedure for Gynecomastia treatment is a straightforward one and includes the following:
Anesthesia – This medication is to enhance comfort. Our surgeon will recommend either the general anesthesia or intravenous sedation depending on which works best for you.
Liposuction Technique– liposuction alone may be all that is needed if the primary cause of the Gynecomastia is excess fatty tissues in the area.
There are different types of liposuction techniques.
Our surgeon will recommend an appropriate one during the consultation and examination period before the surgery.
Excision Technique – This technique is recommended only when excess skin has to be removed to correct Gynecomastia. Some situations may require that a combination of both excision and liposuction will be needed
for breast reduction surgery.
Gynecomastia Surgery Cost:
Curled from the statistics of American Society of Surgeons, Gynecomastia Treatments cost $3,641 on the average. This total does not include other fees and so maybe more. Many factors can determine the total cost of the treatment. A surgeon's fee, for instance, will be determined by his level of experience. Many health insurance policies do not provide cover for Gynecomastia treatments, making the patient's responsible for footing the bill all alone.
In summary, male breast reduction surgery in Dubai treatment may include the following cost analysis:
Medical tests
Anesthesia fee
Surgeon fee
Hospital or surgical facility cost
Post-surgery clothing
Prescription for medication
At the Montreal International clinic, we look more to meeting your needs by providing the best and cost-effective treatment for Gynecomastia. We take up your case right from the first day you visit. our center is equipped with the state-of-the-art equipment to help us carry out our practice more effectively.
The cost of Gynecomastia treatments can vary from region to region

.
Frequently Asked Questions About Gynecomastia Or Male Breast Reduction & Surgery
How do I know if I am a candidate for Gynecomastia?
If you are a male that is unhappy with your breast area as it is fat or sagging, then you are an ideal candidate for gynecomastia.
Male Breast Reduction & Surgery
).
As a man, how do I get rid of my big breasts naturally?
Unfortunately for many men, the fat that gets accumulated at the breast area does not easily shed off with exercise. Breast fat can be the most stubborn and be difficult to remove once it accumulates even when other fatty areas such as the belly and thighs have shed off their fat. This is why gynecomastia is very popular treatment.
Is Gynecomastia Treatment safe ?
Gynecomastia is a very safe treatment. With our innovative international technique of gynecomastia with sedation and without the need for general anesthesia it has become even safer.
Length and method of Gynecomastia Treatment ?
Approximately one and one-half to three hours and can be done under sedation and local anesthetist or under GA.
Recovery after Gynecomastia Treatment ?
We advise the patient may go back to work after 5-7 days. More strenuous activity may be resumed after two to three weeks. The final result will be visible after most of the swelling and bruising have disappeared. That process usually occurs after four to six months post op.
Are the results permanent?
The results are permanent, but the breast areas can grow again if the patient gains a lot of weight and additional fat is deposited there. The final result is often visible after 4-6 months.
Does Gynecomastia Surgery hurt?
Gynecomastia is not a very painful procedure, however patients will be prescribed painkillers for the first week post op to alleviate discomfort.