Learn about Dermal Fillers & how they can fill, slim or enhance your facial features
A tender fresh-looking and fuller face is an enviable sign of youthfulness that we all know doesn't always last forever. As we advance in age, and the stresses of normal life, our faces slowly but surely begin to lose fat under the skin in certain areas making a visible pattern under the skin's surface. The effects are smile lines and wrinkles among others which can thankfully be easily corrected via Dermal filler in Dubai. Injectable Dermal Fillers In Dubai can remove wrinkles, plump thin lips, improve shallow contours, soften facial rumples and even make your face slimmer! Dermal filler can either give your face the desired look you've always longed for or reverse the years back to a younger you.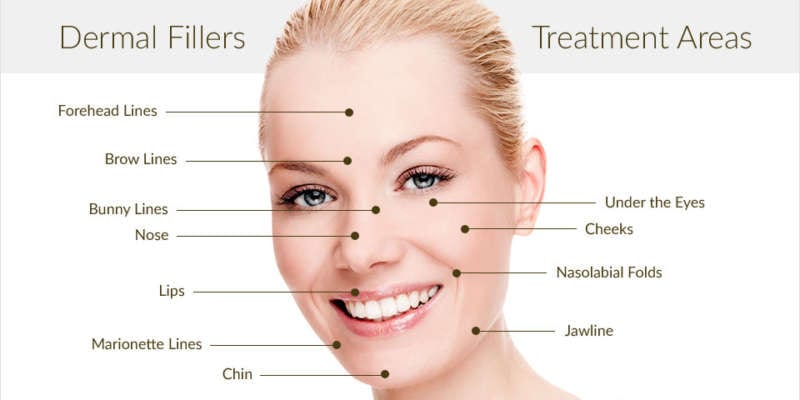 As we age, fine lines and deep wrinkles begin to appear on our faces and our lips. Environmental factors like sun exposure, diet, and smoking help speed up this process.
Dermal fillers can reverse the aging process, fill up thin lips and plump up cheeks as well contour your nose and jaw line if required. As the name suggests, they fill out these areas and give a smoother fuller and more youthful appearance. At our center, your plastic surgeon will explain to you which filler is best for you and your result. The treatment itself is less than 30 minutes after which the patients is free to return to their daily activity. Hyaolurinic acid are the international standard for dermal fillers and the fillers we use are all FDA or CE approved.
About Dermal Fillers
Dermal fillers are less invasive procedures. It is an injection of gel-like material to add volume to soft tissues, smooth lines, and improve facial contours to enhance youthfulness and beauty. Dermal filler procedure is done on various parts of the face including the cheeks, eyes, and jawline. They can be referred to as volumizers which aid plump and lift cheeks, temples, and lips. Many types of dermal fillers will fill lines and hollows on the face with just about 60 minutes of your time needed to complete the process
What you get with Dermal Fillers in Dubai?
Sometimes referred to as wrinkle fillers, Dermal Fillers In Dubai can do much more to enhance the look on the face. Here is a list of what to expect from the procedure:
Reduce vertical lip lines
Plump and improve the lips
Restore volume to sunken temples and cheeks
Smooth out lines around the mouth and nose
Flat out chin case
Enhance symmetry and facial features
Dermal Fillers type:
Dermal Fillers are categorized based on the substance they are made of. Here are some common types that cosmetic surgeons use for their patients:
Hyaluronic Acid Dermal Fillers: Hyaluronic acid filler (HA) is the most common category in the market. The substance is a naturally occurring one from some areas of the human body such as the joints, eyeballs, and
skin. Hyaluronic acid filers improve hydration, maintain shape and smooth out wrinkles. The various types of this category work differently and with results specific to each one. They are usually the most prescribed for first-timers because they are temporary applications that lasts for a little over a year at most. The common side effects of this category include bruising at the site the injection is made, swelling, and redness. This filler can last for many months and even up to a year.
Common hyaluronic acid fillers are:
Belotero Balance
Juvederm Voluma XC
Hylaform
Prevellle Silk
 Restylane-L
RestyLaneRefyne
Synthetic Dermal Fillers:
From the name, these are fillers made from the lab. The benefits of using these fillers come from their long-lasting effect. The fillers offer at least a permanent filling of creases and lines and they have similar side effects just like the Hyaluronic acid fillers.
Some synthetic dermal filler are:
Radiesse
Bellafill
Silicone
Sculptra
Collagen Dermal Fillers:
Collagen dermal fillers are made from animal sources. The first development by scientists came from collagen extracted from cows. They have a higher rate of allergic reactions because they are made of animal sources that are entirely not from the human body. However, new improvements have made the use of collagen fillers safe and carry less risks.
Some common collagen injections are:
Fibrel
Cosmoderm
Zyplast
Evolence
Zyderm
Autologous Dermal Fillers
Fat is the principal substance used for this category. Your fat is extracted surgically from the buttocks, thigh, and stomach, processed and later injected. All the procedure can be carried out in a visit. The result can be semi-permanent. A platelet-rich plasma injection is a form of this type of Dermal Fillers In Dubai.
Cost of dermal fillers in Dubai:
The expenses of dermal fillers are relative to how much you want to be done and the brand you are looking to use. Who does the filling and the number of dermal fillers administered all add to the total cost of the procedure. Every clinic has its pricing, and it also depends on which clinic you are consulting.
Dermal fillers; Risk Factors:
Deciding on going for dermal fillers requires the patient to examine the benefits along with potential complications and risks involved in the whole process. You'll be educated about the dangers during your consultation visit by the plastic surgeon. There are no severe complications though from Dermal Fillers In Dubai. Risks also vary as per the filler you are going for. Some common risks include:
Acne-like effect on the skin
Lumps
Asymmetry
 Bleeding on the injection site
Infection on the injection site
Scarring and wound may occur
Skin redness
Over-correction and under-correction of wrinkles
Loss of skin due to disturbance of blood flow
Itching resulting from skin rash
In the course of the consultation, make sure to address all the questions you may have with the surgeon. To be safe, consult and allow only certified professionals to carry out the procedure on you.
Dermal Fillers Procedure:
First, before the injection is made, the particular are will be cleaned and a topical anesthetic may be administered to numb the area. Lidocaine is a mild anesthetic that is found in some fillers and you may not need another from the surgeon before the injection. The purpose is to minimize pains and discomfort during and after the injection. A calculated amount of the filler is then injected beneath the skin. The result can be instant and you should be able to see it immediately the injection is given. There is no down time with this treatment. You should be ready to return to work immediately after the treatment. you may need to avoid rigorous exercise on the day after the treatment.
For fat injection, the procedure takes a different approach. General and local anesthesia is administered. In this case, downtime can be up to as much as two weeks. This is influenced by the amount of liposuction carried out. You will be guided and instructed by the surgeon on the recovery pattern during your consultation.
How long the treatment lasts depends on the area to be treated, the product, and the treatment mode. The denser and deeper the product is injected into the skin, the longer it may last. Repeat treatment can help to maintain effectiveness.
Frequently Asked Questions About Dermal Fillers
Is there an age limit for Dermal fillers?
There are medical no age limitations for dermal fillers. In some cases, where a patient is very young, we reserve the right to ask for parental consent.
Dermal fillers today are completely safe to use. At our practice we only use international FDA and CE approved fillers tried and tested for years with great results
Is the Dermal fillers result permanent? How long does it last?
Dermal fillers are long lasting, and depending on the area which you are injecting can last several years. In most areas though, a re-injection is necessary after 12-18 months as the biodegradable fillers slowly dissolves away with time.
How long till I see the result of Dermal fillers?
The result is instantaneous. It can take up to a week to get a final and complete result however. We offer our patients touch ups a week after the initial injection in case they would like to make small adjustments to perfect their result. This ensures each patient gets the exact outcome they are looking for.
Pain level in Dermal fillers Treatment?
Fillers is a virtually painless procedure. We ensure the area being injected is numbed for sensitive patients.
What areas can dermal fillers be used for?
The most common areas requested for fillers are the lips to plump and shape thin lips, around the eyes to give a more youthful look and reduce 'crow's feet' wrinkles and fine lines, at the cheekbones or chin to make them more prominent and the nasol-abial folds for a more youthful smile without wrinkles. Other injections can be used for the forehead fine lines, and also around the eyes to eliminate wrinkles and fine lines.