Top Implantologists, Experts at Dental Implants Dubai
Perfect Smile
50% Special Offer
Teeth in 24 hours
Dental Implants Same Day Loading
Dental Implants are the top and most effective solution for missing teeth replacement. Our dentist will use an FDA approved titanium implant to replace the roots of a missing tooth. The implant will fuse with the patients jaw and will carry a zirconium crown to complete the procedure.
Before starting the treatment, our dentist studies an X-ray we take for you. It is possible for some patients to have immediate loading of an implant and a crown at the same visit for a complete one day dental implant treatment. Other patients will need to revisit a few weeks after the initial implant to set the final crown. Our dentist will be able to tell you in which group of patients you are, just from the initial X-ray.
Why Same Day Dental Implants with Montreal International Clinic Dubai?
At Montreal International Clinic, we specialize in not only providing high-quality Dental Implants but also FDA approved Same Day Dental Implants Within 24 Hours and at a reasonable price. Our specialist implantologists are highly experienced and licensed with the American board. With years of experience in the industry and having performed over 10,000+ dental implants for our clients, our dentist has complete knowledge of how to work with different types of gums and patient cases, both basic and severe to get the best dental implant smile result.
Our Most Recent Case Studies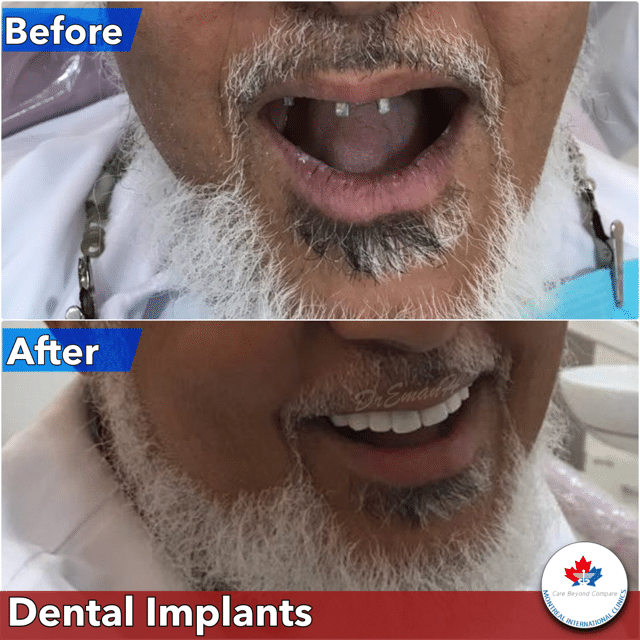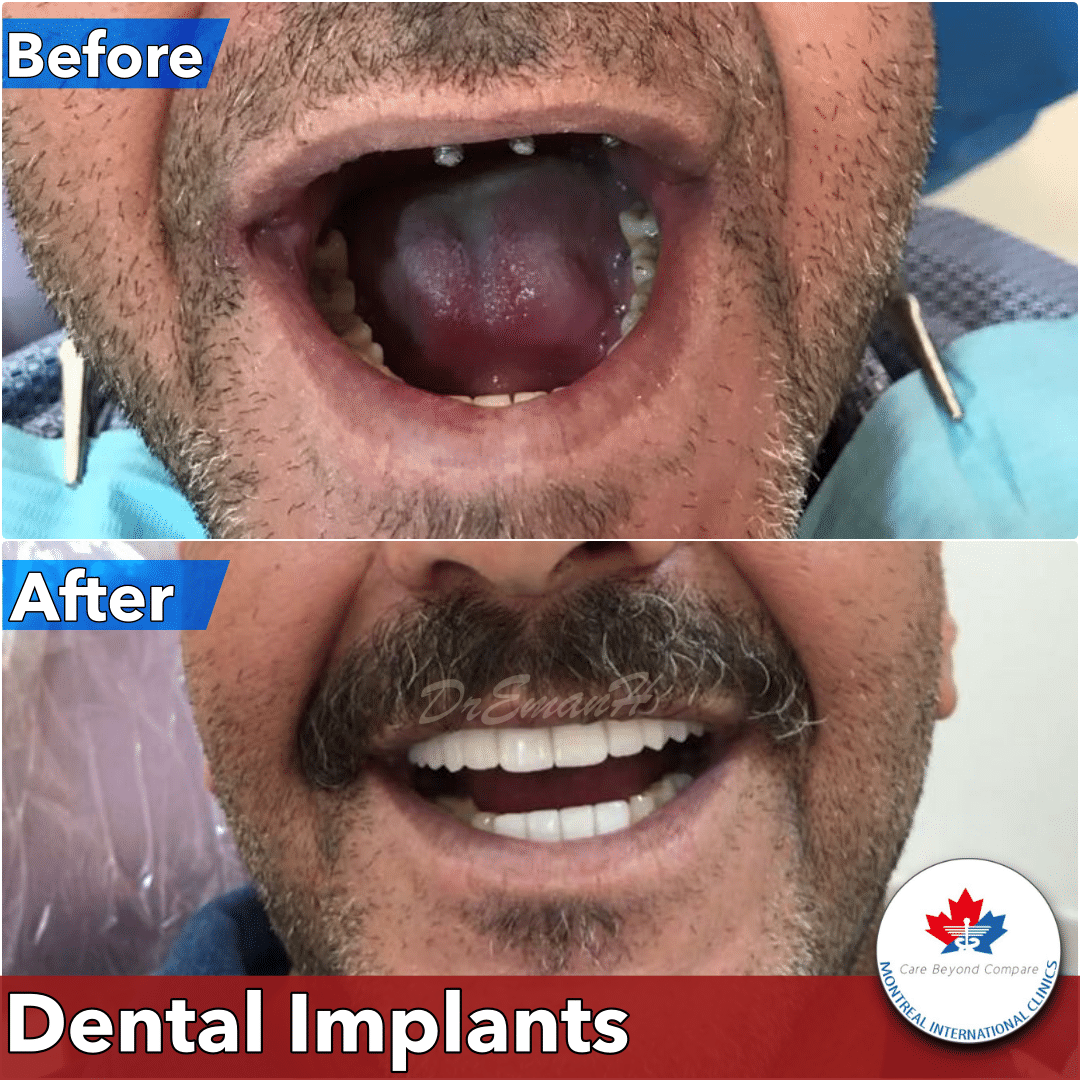 …And over 4000+ success cases in the last 6 years.
Before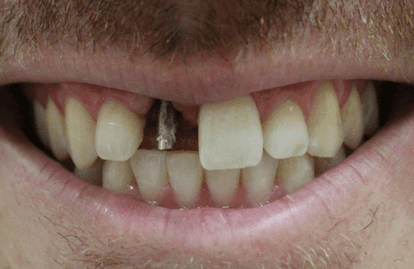 After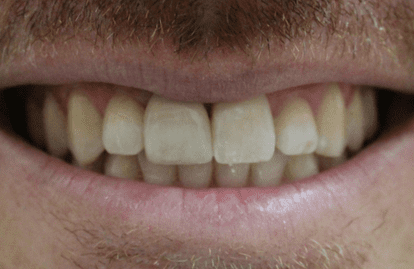 Before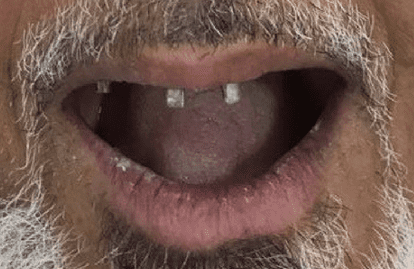 After
Before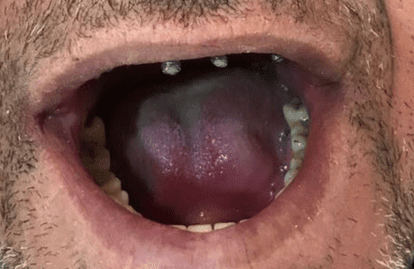 After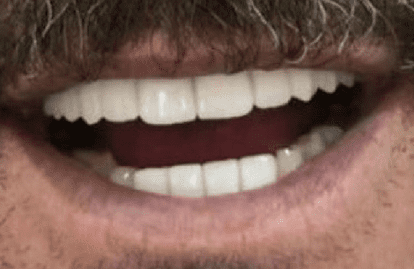 Why Should You Consider Dental Implants in Dubai?
A natural smile and perfect set of white teeth was previously only a dream for many with missing teeth. Missing teeth often push patients to hide their smiles in photos, giving them less confidence to express the smiles they deserve to show. For years, we were led to believe that pearly teeth after tooth loss, decay and gum disease were only affordable for Hollywood's finest. Now Dental Implants Dubai have made this dream a reality with modern technology and advanced implants systems.
Feel free to leave your contact details above and/or call us directly to speak with one of our team to arrange your requirements and schedule your complimentary consultation with our dental implants specialists.
Dental Implants FAQ
What kind of dental implants do you use?
We only use American FDA approved dental implants. Their history speaks volumes and our success rate is the highest.
Is it possible to finish my entire dental implant treatment in one day?
Yes. Provided your bones do not require grafting and there is no infection, it is possible to load the implant and a temporary crown in one day. A final fitting a week later will place the permanent zirconium crown. In cases where the bone is weaker or less dense and needs time to heal. Then our dentist recommends that the implant first be placed with a temporary crown or bridge. You should follow up a few weeks later to replace the temporary crown with the final zirconium crown or bridge. You will know the timeline before starting the procedure after the doctor has examined your teeth with X-ray diagnosis.
Is it possible to do a full mouth dental implant in one go?
Yes. For patients with severe tooth loss, or where the current teeth are too infected, full mouth implants are a great solution. Full mouth implants are often called 'all on four' or 'all on six' as four or six implants are enough to carry the entire zirconium bridge units for the full jaw.
Is it painful? Do I need to take time off work?
Dental implants are a treatment generally done under a local anaesthetic. It is a minimal pain and minimal discomfort treatment and there is no need to take time off work. In some cases, patients may ask for a mild sedative during treatment and we are happy to oblige and can also prescribe a pain killer for the first day after surgery.
Why should I choose Montreal International Clinics for my dental implant treatment?
Our experience with dental implants is second to none. The dental team has been using American FDA approved dental implants for the better part of 3 decades since first working with them at the university of Loma Linda conference in California in 1990. We have cases from 20 years ago that are still doing their follow ups and sending their children for treatment. With us, your smile is in safe hands.
Guarantee?
Once an implant is fused with the jawbone, it is fused for life. This is our guarantee. We do recommend a maintenance program that includes bi-annual visits to our centre for hygiene cleaning. Follow up to keep the guarantee going.